Jurassic World: Dominion Dominates Fandom Wikis - The Loop
Play Sound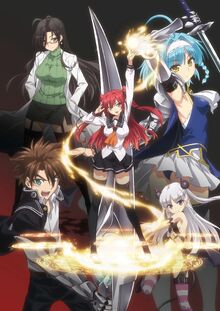 Shinmai Maou no Keiyakusha (新妹魔王の契約者, The Testament of Sister New Devil) is an action, fantasy, and harem anime series based on the light novel written by Tetsuto Uesu and illustrated by Nekosuke Ōkuma, published by Sneaker Bunko.
It centers on Basara Toujou, a seemingly normal boy who encounters his new family members Mio and Maria under the pretense of his father's "rearranged marriage" with their mother. In reality, however, the "sisters" are actually demons who escaped from the Demon Realm after Wilbert's passing. In order to protect his "stepsisters" who he cherishes, Basara must do whatever it takes to protect them from harm, and the people after Mio's powers.
Stat
Staff
Director – Hisashi Saito
Producer – Kuraken Chiaki
Writer – Takao Yoshioka
Music – Yasuharu Takanashi
Studio – Production IMS
Licensed by – Madman Entertainment; Funimation; Anime Limited
Network – Tokyo MX, AT–X, GBS, MTV, BS11, TVS, CTC, tvk, TVQ, and TVQ.
Cast
Episodes and OVAs
The first season of the series that primarily focuses onto the first three Light Novel Volumes and three major story arcs: First part is about an introduction of the Naruse Sisters into Basara Household as the "new family members" in order to seek asylum after Wilbert's demise. The second part is about the hostility of the Hero Clan whose aim is to kill Mio who also involving Basara, who appeared to be the exiled member of the Hero Tribe. The third and last part of the season is about Toujou Household against Zolgear who trying to kidnap Mio in order to manifest her power to satisfy his own greed.
Second Seasons of the series that focuses on the Light Novel's fourth, fifth and seventh volume of the series and three major story arcs.
OVA
Shinmai Maou no Testament Departures
The OVA of the series that focuses on the Light Novel's eight volume of the series. This is an OVA that focuses on the peaceful daily lives of Basara and the others living in the Toujou Household, before receiving a message from the elders of the Hero Clan for a meeting with both Basara for the first time in years and Mio.